Submitted by Kelli Allison on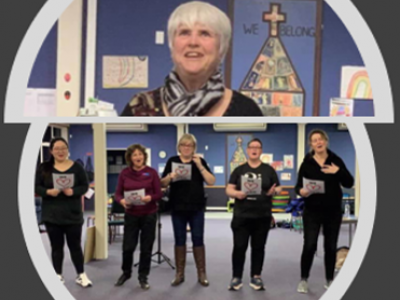 It's always sad when a Waikato Rivertones member leaves, especially when they are an integral part of the chorus. Jean Brooker has been with us for almost 12 years in roles such as Team Coordinator, Secretary, Fundraising assistant, and Bass Section Leader (aka Bass Camp Mother). Jean's been in various choirs since her school days, and joined Rivertones after a work colleague brought her along to a rehearsal. 'Before the evening had even started I was whisked out the back and auditioned - very scary when you had only turned up to listen! By the end of the evening I was hooked.' Some highlights have been winning 3 National Gold Medals and the 2021 People's Choice medal. Jean's also enjoyed taking part in two international competitions in Denver and Las Vegas, and hosting many of the international coaches visiting Hamilton.
It's fair to say Jean's been trying to leave us for awhile now, but Covid played into our hands. We've enjoyed two farewell parties for Jean, who with husband Tim is returning to live in the UK after a 17 year long OE... 'there's the pull of four grandchildren aged 5, 3, 2, and 1 - the last one we haven't met yet!' 
There are big shoes to fill with Jean leaving the chorus, however our new Bass Section Leader Andrea Evans (centre) is keen to continue Jean's good work. 'Over the last 2 years, Jean has been a significant support for me, mentoring and encouraging me in my development as a singer in the bass section. She has an amazing way of nurturing new members and has had a positive influence on our culture of sisterhood.'
Jean says she will miss the camaraderie of all the members, the 'joy of singing Barbershop and ringing Chords, always finding something new to master in the Barbershop craft, and the joy of performing.' She definitely won't miss trying to get false eyelashes to stick in the right position!
We'll miss you Jean - aroha nui from all of us xxx