Submitted by Kelli Allison on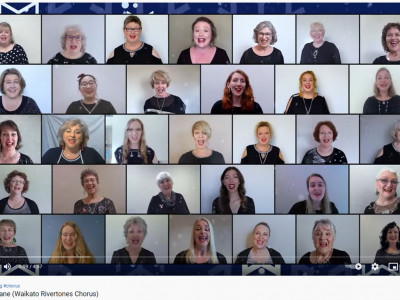 We are super lucky in the Waikato Rivertones Chorus to have a strong music team, including the very talented arranger Rowena Harper. Since joining the chorus 6 years ago, Rowena has enthusiastically thrown herself into all aspects of the chorus, including choreography, assistant musical directorship and arranging four or eight part harmony for multiple pop songs including this Waikato Rivertones Chorus virtual Christmas song. 
Rowena has been 'singing forever' with her musical background including 'lots of choirs, operatic training, a piano scholarship at St Peters School in Cambridge and then in various rock bands' before starting her family. 'It was fantastic joining the Rivertones in 2015 - I had one night a week that my children were put to bed by their father, and I could have some musical "me" time.'
A few years ago Rowena became interested in arranging music, and is currently studying for "Approved Arranger" status with Sweet Adelines. She has now arranged five songs for Waikato Rivertones in our current repertoir, and has sold over 2200 copies of "A Million Dreams" (from the Greatest Showman) to people from a range of countries including Sweden, South Africa, British Columbia, Paraguay, Canada, United States, Australia, Great Britain, New Zealand and Germany. It was performed as part of the Sweet Adelines Coronet Club (Annual international champions show) last month by Love Notes Quartet. There have been a few choruses who have put A Million Dreams onto YouTube including Australian champions Endeavour Harmony Chorus, and most recently a top mixed quartet Met44 from the UK have put "I Want It That Way" onto YouTube as well.
It's fair to say that Rowena has a huge passion for arranging, and wants more people to give it a try!
'After A Million Dreams, I have had an increase in interest in my work, with commissions starting to now come in. My favourite arrangement so far has been a mash up medley for Christchurch City Chorus which that took months and months to finish as it was really well above my capability at the time. I had these huge ideas, and so it took a lot of blood, sweat, tears and dogged determination to get it to where I wanted it to be. I approached master arranger Aaron Dale to review it with me, and we had a blast refining a few transitions and details that I wanted to talk through with someone.  I think it's going to be spectacular to watch, and I did warn the chorus that their front row would need to be very fit!!!
As far as what's next, I've recently done Brooke Fraser's "Something in the Water" and there are a couple of other New Zealand songs that I have on my list as well. I've just finished "Snowman" for Christmas 2022 (although someone might sing it this year if we are lucky), and also "A Thousand Years" (by Christina Perri) - that will be debuted next year too, likely at the young singers contest.
Like many budding arrangers I have feelings of inadequacy, and the hardest thing is to first share your work with someone, and then even harder to let it go so that it can take shape under the hands of a chorus director.  
I really have been fortunate to have been supported by so many people over this last couple of years, and so these wins really wouldn't have been possible without the support of our chorus and especially Kate Sinclair, our WRT musical director. She has always held her hand out behind her to pull others along with her, and sharing my arranging ambition with her was one of the best things that I have done.  
This year has been absolutely incredible, and I have achieved so much more than I imagined, including creating some really special arrangements like the one our chorus is learning at the moment "Somewhere Only We Know" by Keane, and performed by Lily Allen.'
We look forward to sharing this song, and many others Rowena has arranged at our next concert!