Submitted by Kelli Allison on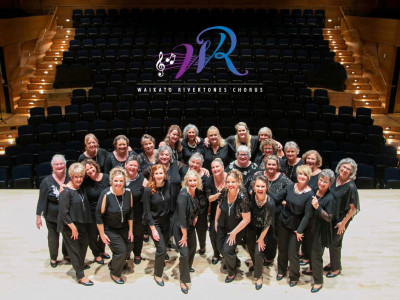 We did it! We are thrilled to be the 2022 New Zealand Sweet Adelines Chorus Champions, and achieving 1st Place as the Sweet Adelines International Division A Small-size chorus. Check out our winning performance.
This means Waikato Rivertones Chorus will represent NZ in Louisville, Kentucky USA in October 2023!!! We'll be performing onstage and will enjoy watching around 30 other choruses from across the world.
We all have our fingers crossed that it actually happens this time, as we were all revved up to compete there in 2020 when an annoying little virus hit the world… Optimism rules though, so now it's all about the preparation and practice, practice, practice...
So we're on a membership drive, as over the last couple of years the size of our chorus has been impacted by the need to rehearse virtually and for members to be fully vaccinated to keep ourselves safer.
The more people we have competing the bigger the sound, so if you've been thinking about joining our chorus (or coming back) - now's the time!
We're also ramping up our fundraising activities to help us get there – so keep a look out on our Waikato Rivertones Facebook page for Quiz nights, Plant sales, Sausage sizzles and anything else we can think of lol. Whilst our travel is mostly self-funded, we want to build up our 'Angel fund' to help minimise the cost for members that need it.  
And of course we are already choosing our songs (a ballad and a more lively 'up tune'), which will be the focus of our weekly rehearsals, weekend singing 'retreats' and we'll test out our sound at various performances over the next year. We are looking forward to having some valuable input from national and international coaches in the months ahead.
We'd love you to join us in Kentucky, so if you're interested in finding out more please email [email protected]!