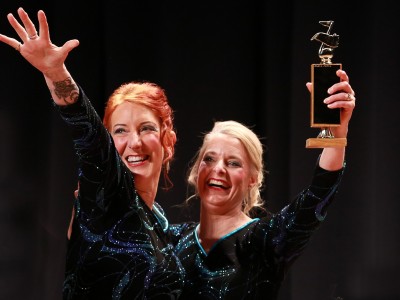 Master Co-Directors
Lynn Jamieson and Kate Sinclair gained the title of Master Director 600+ at Regional Convention, May 2014
Their vision is to have a fun filled and high level performing chorus at all times with a broad range of repertoire that is appealing to members and audiences.
They are both long-time chorus members taking their expertise further.
Kate began playing piano and flute as a child, and by 13 she was playing in orchestras and concert bands, touring in Germany and Denmark and playing The Royal Albert Hall in London. She toured with the Welsh National Youth orchestra at 19 and played flute with the University of Birmingham symphony orchestra. During her GP training Kate found Sweet Adelines, and since her first Rivertones' rehearsal in March 2000 she's been hooked. Kate has sung in quartets Primadonna and Total addiction, and has been a judge for Young Women in Harmony regional competitions and the recent National YWIH competition. She became a certified director in 2011.
Lynn has been a member of the Waikato Rivertones since October 2008. She is a Vocal Itinerant in five schools in the Waikato, coaching choruses and quartets. Lynn has an honours music degree in performance singing from Otago University and a teaching diploma, and has headed music departments in both Auckland and Hamilton. Her performance history includes many musicals, professional jazz and rock bands, coaching/teaching privately and singing baritone for RED quartet.  Lynn became a certified director just before convention 2014.