Submitted by Kelli Allison on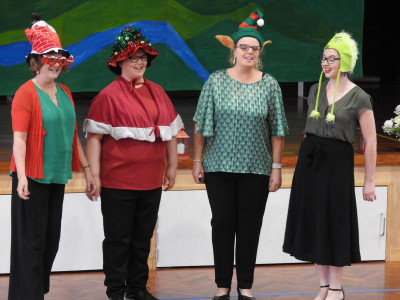 It's a month of performances for the Waikato Rivertones...which we love! Lots of rehearsals and extra practices so we're ready to perform soon at Harmony Breakout and at the Cambridge Christmas Festival. See our Events page for more details - we'd love you to come along.
Last weekend we joined Mighty River Harmony in a Scratch Quartet day, which our musical director Kate had assured us would be a 'fun' competition (aka a slightly nervewracking experience for most of us). It was definitely a challenge for those that hadn't performed in a quartet before, especially when reality set in that we couldn't take our usual spacer breaths. During performances it's fine to take turns missing a word when you have other people to cover you, but if you are the only person singing one of the four parts it's not an option! As it turns out, I really enjoyed the day and was super grateful I didn't bungle my words in front of the judges and all the other quartets. There were some awesome performances and costumes - see the pic above of the fabulous winning female quartet 'Mouth Noise'. Might even do it again next year lol.
To help us get 'ship shape' we held a rollicking good fundraiser at A Pirate Christmas. As well as being a really fun show full of raunchy innuendo and lots of pop and rock songs (I was rapt I knew them all), it was great to support a couple of our very talented Rivertones - you should definitely go see it!